Welcome to Steeles.com.
Frequently Asked Questions
How do I contact you?
Steele Supply Company
3413 Hill Street St. Joseph, MI 49085 USA
Telephone (toll free in the US): 1-800-747-1372
Telephone 269-983-0920 (in MI and outside the US)
Fax: 269-983-0970
E-MAIL: help at steeles.com
How do I place an order?
You can place your secure order online.
You can call to place your order at 1-800-747-1372 or 269-983-0920 in Michigan.
You can fax your order at 269-983-0970. We have a printable size form for faxing or mailing here.
How do I place my secure order online?
You can start shopping now by searching for products in the search box in the top right corner of this page or by browsing our list of categories on the left side of this page. Items can be easily added to your shopping cart by pressing the Add to Cart button under the item price. Large icons direct you towards our secure checkout.
Is online ordering secure from Steeles.com?
Yes. Steele Supply Company has made every effort to make your shopping experience as safe and worry free as possible. Our shopping system checkout supports industry standard secure (SSL) online ordering.
What forms of payment do you accept?
We accept Visa, MasterCard, and Discover cards. Your credit card is charged when your order is placed. Money orders, wire transfers, and cashiers checks are also accepted. US personal and company checks are accepted with proper information and approval.
Are your products new? Are you an authorized distributor?
YES and YES. We (Steele Supply Company and our web site Steeles.com) are official authorized distributors of 3M Littmann, Welch Allyn, and Miltex products as well as many other distinguished brands.
We only sell genuine brand new products direct from the product manufacturer. We do NOT sell used, refurbished, remanufactured, or counterfeit products. If you have any questions or concerns about this, please feel free to contact us.
Do you charge sales tax?
Sales tax is only applicable in the state of Michigan. Orders shipped in Michigan will be charged sales tax.
How long will it take to get my order?
Most in stock orders placed before 3:30 pm ET are shipped the same day Monday through Friday (excluding holidays). Delivery time via UPS Ground service is about 2-5 business days depending on your location. Note individual item availability (at the bottom of each product page under Availability) for additional product delivery information. Laser engraving does not delay shipment of your order, but monogrammed medical bags require additional processing time.
Transit time estimate by location for a UPS Ground package (excludes weekends and holidays):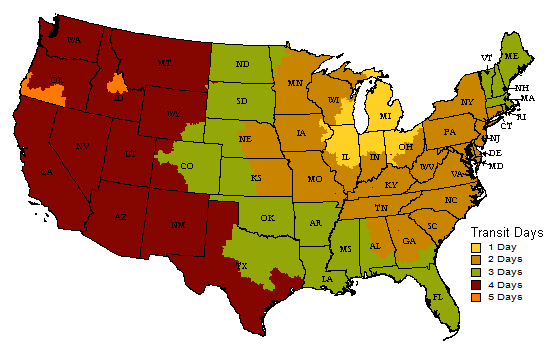 How much do you charge for shipping?
| | | | |
| --- | --- | --- | --- |
| Order Subtotal = | $0.01 - $200.00 | $200.01 - $500.00 | $500.01+ |
| UPS Ground | $12.95 | $13.95 | $15.95 |
| UPS 3-Day Air | $20.95 | $24.95 | $32.95 |
| UPS 2nd Day Air | $21.95 | $25.95 | $37.95 |
| UPS Next Day Air Saver | $34.95 | $40.95 | $55.95 |
$5.50 1st Class Mail (0-$20.00)
$7.95 USPS Priority Mail (0-$40.00)
$9.95 UPS Surepost (0-$50.00)
$10.95 UPS Surepost ($50.01-$100.00)
Above rates are for Continental United States
Air shipping rates may be more for orders over 9 lbs.
-ADD $17.00 for UPS Next Day Air SATURDAY
International shipping is available. Some product restrictions do apply.
Online orders placed after 3:30 pm ET (Monday-Friday) may ship the next business day.
What is your return policy?
Most items may be returned or exchanged within 30 days of receipt of the order as long as they are in new and unused condition. Please see the specific return policy at the bottom of each product page for exceptions. All original package contents must be included. Personalized items may not be returned. Please phone or e-mail for a Return Authorization before returning any merchandise. We do not charge a restocking fee as long as returned items are in new and unused condition. Restocking fees may be applicable on certain speciality professional items from Welch Allyn or Miltex. Exceptions are noted in the return policy on applicable product pages. Shipping charges are non-refundable.
---
Delivery Address Change
There is a $18 charge to change the address if an order has already shipped. Additional shipping charges may apply. Return shipping charges may be billed to the original form of payment.
Privacy Policy
We do not share or sell our customer's information.
Disputed Credit Card Policy
If paying by credit card and consumer disputes claim for no fault of Steele Supply Co, Steele Supply Co will add a $25 chargeback fee when reprocessing the credit card. The $25 is a fee that is charged to Steele Supply Company by the processing bank.
Disclaimers:
Prices are subject to change without notice.
All information on Steeles.com is correct to the best of our knowledge, however we reserve the right to refuse or cancel any orders placed for a product mistakenly listed at the incorrect price or due to typographical errors in product specifications. We reserve the right to refuse or cancel any such orders whether or not the order has been confirmed and your credit card charged. If your credit card has already been charged for the purchase and you wish to cancel your order due to the error, we will issue a credit to your credit card account in the full amount of the incorrect price.
Additionally, we do our best to keep all product information updated and accurate, but because of manufacturing changes our information about a product including color variation, descriptions or dimensions may not always be correct. If you have strict specifications for a product, please contact us for details about the product before placing your order. Our return policy, above, applies to all products.